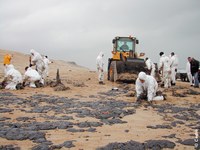 The POSOW projects contribute to the harmonization of procedures and tools useful to respond to shoreline pollution following an accidental or operational spill at sea. A training package and manuals are developed for the essential preparation of NGOs and volunteers to work promptly and safely to support authorities in charge of the response operations in case of a spill.
The main targets groups of the activities are operators (professionals and volunteers) working in the national civil protection services, in municipalities (local community) and in well-established NGOs along the coasts of the Mediterranean Sea. The following activities will be carried out under the projects:
Publication and Manuals:
Dissemination of the Mediterranean Oiled Shoreline Assessment Manuals to all participating countries during POSOW I;
Development, based on existing material, of the "Shoreline Cleanup Manual: rules and activities of civil protection volunteers in the Mediterranean sea" during POSOW I;
Development, based on existing material, of the "Oiled Wildlife Response Manual for the Mediterranean" during POSOW I.

Development, based on existing material, of the."Response to an oil spill at sea in coastal waters with local fishermen assistance: using small vessels of opportunity" during POSOW II;

Development, based on existing material, of the" Oil spill waste management" during POSOW II;
Capacity building:
Development of a training material package for dissemination of knowledge;

Organization of four day training courses aiming at providing trainers with the required knowledge to train other volunteers in the fields of shoreline assessment, shoreline response and oiled wildlife response;

Support to the organization of national volunteer training courses.
Information dissemination:
To ensure that information about the POSOW projects is made available and to promote the projects during relevant events, a set of dissemination tools such as the website, a brochure, a movie, will be developed to reach the concerned public; and
Following the trainings, the information about the new pool of trained volunteers and trainers is made available for the regional and national decision makers in the volunteer's database.